Movie Diary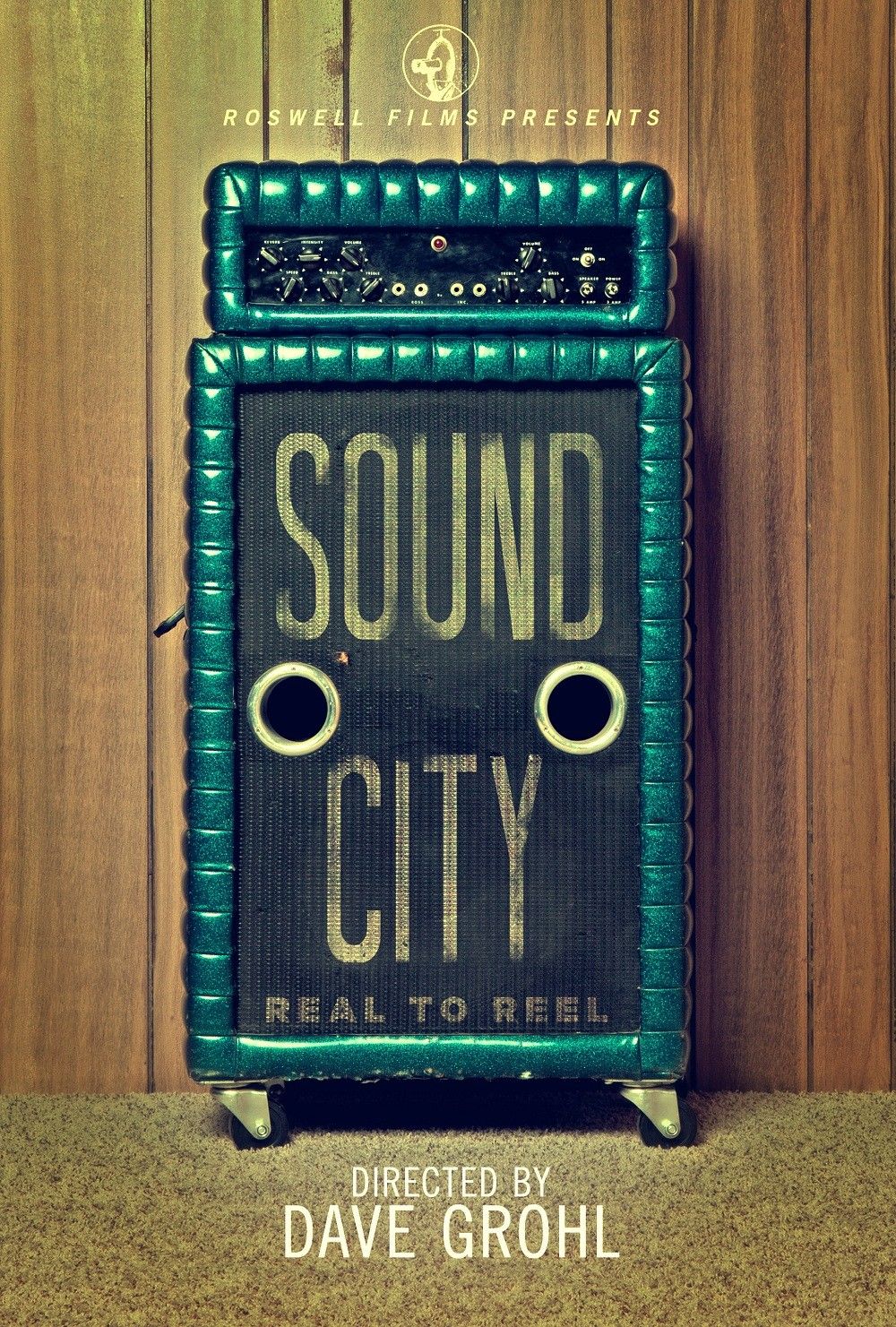 a)
Sound City
I saw this was available on the iTunes store, and since I'd gotten a gift card for Christmas and had been indecisive for weeks about what album to spend it on, I made an impulse buy and just got this. It's a fun movie, feels like it's very much evangelizing to someone unlike me who might need some convincing about the value of old-fashioned recording studios and consoles, but it was still a pretty enjoyable and convincing infomercial for those things. I liked the historical stuff about Sound City best, particularly how that was the place where the blockbuster lineup of Fleetwood Mac came together, and the stuff at the end with Dave Grohl and his all-star buddies recording the soundtrack was more entertaining than I expected it to be.
b)
The ABCs of Death
So recently my son pushed some buttons on our cable box while the TV was off, and later I turned it on and realized that somehow he had managed to purchase a movie from our OnDemand menu for $9.99. Instead of getting mad, or trying to get it refunded, though, I decided to just go with the flow and see if the movie he ordered was any good. And it was! Basically it's a horror anthology movie in which 26 filmmakers each make a short film in which the cause of death starts with a different letter of the alphabet. It's a silly conceit, obviously, and there are a few worthless or exhaustingly wacky segments, but there are also several really awesome or memorable ones -- the very first, A, was hard to top, though. Just some great staging and effects, and a nice little twist ending.
c)
The Hobbit: An Unexpected Journey
I haven't read
The Hobbit
since I was a kid, so I'm not a big diehard Tolkien fan, but I loved the Jackson's
Lord of the Rings
movies and I loved this. Let 'em stretch it out to as many movies as they want, do an hour of just dwarves washing dishes, fuck it. Andy Serkis as Gollum is one of my favorite feats of acting and special effects ever, and it was great to see one more amazing scene of that, and Ian McKellan alone was worth the price of admission. Didn't see it in 3D or the special frame rate or anything, but it looked pretty great.
d)
Skyfall
I am similarly uncritical of this -- obviously not as solid as
Casino Royale
, and there were some silly plot points that wouldn't hold up to any degree of scrutiny, but some really well staged, entertaining sequences and I was impressed that Javier Bardem could come up with a classic creepy villain without being Anton Chigurh 2.
e)
The Five-Year Engagement
Jason Segal and Emily Blunt are pretty much two of my favorite, most would-kick-it-with type people making movies today, so this was like my dream rom com. At least on paper, but also to some extent in practice (although Blunt's character could've been more fleshed out or sympathetic -- or really she should've just reprised her character from
The Adjustment Bureau
). It was overlong, as these friends-of-Apatow comedies all are, but it felt a little more earned here, if for no other reason than that the dragging on of years was kinda the point of the movie. I also maybe identified with it a little too much, since my wife and I were also together for 6 long years before getting married (although it was the inverse of this, 5 years of pre-engagement and a one year engagement). The middle parts kind of really bummed me out, but the ending was nice. Alison Brie's British accent is pretty ridiculous, though, they really should've just made her Emily Blunt's friend instead of her sister when they cast an American for the role.
f)
21 Jump Street
The whole genre of silly/satirical movie adaptations of old TV shows is easy to dismiss, but there really are some great ones, especially the
Addams Family
flicks, and this deserves to be mentioned among the best of those. I think I've even come out on the other side of being really sick of Jonah Hill and kind of like him more now than I did to begin with? Weird.
g)
The Trouble With Bliss
Like
21 Jump Street
, this movie features Brie Larson as a high school girl in an inappropriate relationship with an adult. Beyond that, it was just abject garbage. The main character's last name is Bliss, that's all you need to know about how hacky it is. Also there is something about Michael C. Hall, I pretty much just hate his face, although I don't think it's at all rational or reflects on him in any meaningful way.
h)
Chronicle
This movie was pretty cool to some extent, didn't do the 'found footage' thing as well as C
loverfield
, but took a similar arc, except by the end it got quite a bit darker, which was implied by the trailer but still surprised me just how dark it got. The fact that the characters weren't quite well drawn enough for me to really care about them but still went through enough stuff to make me feel really bummed out will probably keep me from ever watching this again, but there were some cool scenes, some smart to decisions about how to unspool the story and keep ramping up the stakes.
i)
We Bought A Zoo
I feel like I say this almost every time I see a 'based on a true story' movie, but I feel like the actual story would be a lot more interesting, if I read the book or if there had been a documentary or something, than what they changed to make it supposedly a more palatable or entertaining movie. It was still kind of charming and amiable and not as goofy as it could've been, but nothing great.
j)
New Year's Eve
I watched this on December 31st and livetweeted how stupid it was for a laugh, but I generally am not really against these big ridiculous Voltron rom coms that throw a billion famous attractive people into overlapping boilerplate meet cute situations. The
Valentine's Day
one was better, though, by that humble metric.
k)
Tower Heist
Was this funny? I can't even remember now. I guess that means "no."
l)
The Ides of March
I didn't have high hopes for this at all but it was really pretty good. Not especially novel or nuanced as a political film or a thriller but the way the story unraveled was really well done, took some nice twists and turns and didn't overdo the ending.
m)
The Hangover Part II
I would ask who the hell enjoyed this and is looking forward to a third one, but apparently the answer is an insane manifesto-writing ex-cop on a murderous rampage.
n)
Blitz
I watched this because it was an action movie starring Jason Statham and you really don't need any reason other than that, and wow it was pretty intense. Just really over the top and gruesome. But otherwise not really notable in any way.
o)
Absentia
My wife was watching this low budget horror flick, which had a pretty cool novel concept, and a good dark ending. It apparently won awards at a bunch of horror film festivals, too. But I had a hard time paying much attention to it because the acting was really pretty bad, especially the detective guy. Major studios should start remaking domestic horror movies that had good ideas but poor production values the same way they remake foreign horror flicks.
p)
Tanner Hall
Wow look, a THIRD movie in this list in which Brie Larson plays a high school girl in an inappropriate relationship with an adult. This movie was overall not bad, good early starring role for Rooney Mara, but there were parts of it, like the Chris Kattan/Brie Larson subplot, that felt like they belonged in a different movie, the tone was a little all over the place.
q)
Tiny Furniture
I tried to watch a little of this movie once before "Girls" debuted, and couldn't stand it. After watching the first season of "Girls" and finding it enjoyable, if flawed, I went back and tried with this again, and it was still pretty terrible. It's like talky white people indie movies haven't changed a bit since the Eric Stoltz era.
r)
Father of Invention
I always want Kevin Spacey to come back with someone that hones in on his comedic talents, but this ain't it. Really crappy almost straight-to-video ish.
s)
Paper Man
Weird terrible indie movie where a good cast is pretty much wasted on a ridiculous story where Jeff Daniels is a frustrated novelist and Ryan Reynolds is his imaginary superhero friend and Lisa Kudrow is his shrewish wife and Emma Stone is his precocious teenage friend. I mean, seriously, how stupid does that sound?
t)
The Goods: Live Hard, Sell Hard
I feel like this being Neal Brennan's directorial debut is a good argument against any theories that he was the secret genius of "Chappelle's Show," but anyway it's not bad, just kind of a cookie cutter off-brand Ferrell/McKay production. I kinda wish Jeremy Piven got decent roles that weren't Ari typecasting, but this ain't really it. A few funny scenes, though.
u)
Cherry Crush
Cheesy thriller, waste of time.
v)
Descendents
Ten years ago, my wife and I spent our first Valentine's Day together, snowed in and watching horror movies and eating Chinese food. And so ordering Chinese and watching scary movies has been our tradition ever since. One of the movies we picked out this year was a Chilean zombie movie, which was kinda cool and had some creative plot touches
w)
The Singing Detective
Weird movie made right before Robert Downey Jr.'s career started to make its big upward climb and Mel Gibson's started to make its big crash. Downey is a writer who fantasizes about being in one of his own mystery novels while crippled by psoriatic arthritis in the hospital, but the thing is a surprisingly large amount of the movie takes place in reality in the hospital, with Downey looking really grisly, and the whole thing gets to be a little overwhelming and odd and not really as jaunty or fun as the title makes it sound.