Monthly Report: November 2014 Albums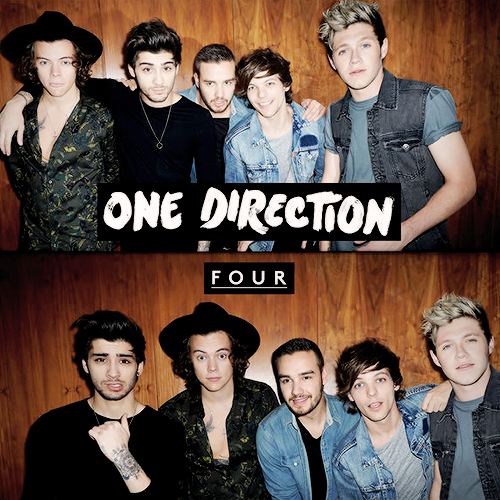 1. One Direction - Four
I feel like One Direction are kind of whistling past the graveyard by using the title of their 4th album to point out that it is, in fact, their fourth album. I say that because pretty much no modern boy band from NKOTB forward has ever managed more than three albums as a big popular youth phenomenon before breaking up or going on extended hiatus or simply falling off the charts. But who knows, maybe they'll beat the odds and stay this huge for a 5th album. Their music is actually getting better, which is pretty impressive -- I loved "What Makes You Beautiful" but it didn't seem like there was a lot of room for growth in that excitable puppy dog pop/rock vein they're doing. But Midnight Memories was really strong and I think I like this one even more. The album-ending run of "Spaces" and "Stockholm Syndrome" and "Clouds" is just killer. I put (most of) these albums on my rolling
Spotify playlist of 2014 albums
I've been listening to.
2. Nick Jonas - Nick Jonas
The Jonas Brothers already cycled through their 3 successful albums, which means it's all or nothing with the solo records, and this one is taking off pretty well. I have mixed feelings about white teen pop stars using R&B as a vehicle for their "mature" career reboot, because it's become such a post-Timberlake cliche. But Nick Jonas has always been a talented, underrated songwriter with a soul influence, and his voice hasn't quite grown into something soulful, but it works. "Jealous" is an accurate representation of the rest of the album. No other song has quite as strong a hook, but no song has lyrics quite as awkward and unfortunate, either. Whole thing holds together well, though, and I really like the Demi Lovato duet "Avalanche."
3. Chumped - Teenage Retirement
I hadn't heard of this band at all until a couple weeks ago when my dude Tom Breihan gave it a
rave
and I decided to check it out. Just a nice tight 34-minute punk album with trebly nervous lead guitar lines and some great singing and goofy song titles like "Hot 97 Summer Jam" and "Novella Ella Ella Eh." Kinda reminds me of that dog.
4. Al Great and Street Scott - Great Scott
These are two guys I've known and followed in the Baltimore rap scene for years and years, Street Scott produced one of Al Great's best previous songs, "Summer Nights," and it was cool to hear them link up for a full-length project. Street Scott is just an amazingly versatile and resourceful producer who's worked with a ton of different kinds of rappers, and it's cool to hear him throw a whole bunch of different sounds against someone kinda plainspoken and lyrical like Al Great. Check it out on
Soundcloud
.
5. Bond St. District - Everybody's So Sleepy EP
Another cool Baltimore rapper/producer duo project that hit
Soundcloud
recently. I've known DDm for ages and
interviewed him earlier this year
about his next solo project and somehow the subject of this other project with producer Paul Hutson never came up in conversation, so I was surprised when it came out before the solo record. It's really good, though, very detailed and playful production style that leaves a lot of room for DDm's big personality and hilarious punchlines. The single and closing track "Matinee" really stands head and shoulders above the other tracks, but the whole thing is pretty solid.
6. Foo Fighters - Sonic Highways
I've long been a Foo Fighters apologist, for the hits as well as the
deep cuts
, and
Wasting Light
bucked the diminishing returns trend of their later albums. But the flipside of the
"Sonic Highways" HBO series
being this big ambitious 8-hour documentary about American music is that it's ultimately centered around a lesser album by a good-not-great band. It's hard to even divorce the songs from that context too much, since Dave Grohl used interviews from the show as the ingredients for the usual meaningfully meaningless Foo Fighters word salad. And yet I still jam this album and find it pretty enjoyable, especially "Congregation."
7. Nels Cline & Julian Lage - Room
Relatively little of Nels Cline's enormous discography is just guitar with no other instrumentation, although his 2009 solo album Coward and his duo records with Thurston Moore are some of his very best work. Room is pretty different than either of those, though -- true to its title it's just two jazz guitarists sitting in a room, tangling their ideas together, with very little in the way of effects or distortion. There's a lot of busy, squirrelly sounds happening at low volumes, it's not exactly relaxing pastoral music, but it's very calming and beautiful, have enjoyed listening to it in the morning while hanging out in Alabama for Thanksgiving. There's a version of the Nels Cline Singers tune "Blues, Too" on here and it's always fun to hear him try out certain compositions in totally different environments.
8. various artists - The Hunger Games: Mockingjay Pt. 1 (Original Motion Picture Soundtrack)
"Royals" and Pure Heroine in general were pretty frustrating for me, because Lorde has a lot of potential but I feel like she hit a commercial/critical homerun for some really questionable lyrics and bland trendy aesthetic choices. But her overseeing the soundtrack for a big blockbuster movie is an interesting way for her to try some new things before the proper follow-up album. And "Yellow Flicker Beat" is probably my favorite thing she's done to date, and this is full of interesting combinations of artists, like Miguel and the Chemical Brothers or Charli XCX and Simon Le Bon. I dig the Tinashe and Grace Jones songs a lot, too. The way the album stars with Pusha T saying "Lord" (or "Lorde," I guess?) is pretty funny, though.
9. Maddie & Tae - Maddie & Tae EP
"Girl In A Country Song" is one of the best country singles of the year precisely because it so perfectly satirizes a lot of the worst trends in the genre at the moment. But you can't pull off a song like that more than once, and it's a shame that the single ended up being attached to a 4-song EP that only gives Maddie & Tae 3 more chances to show what else they have to offer. It's pretty solid, though, and raises my hopes for a full-length album. "Sierra" is one of cute little songs that keeps working its way towards a swear word and then swerving at the last minute (is there a name for those?), "Fly" is a pretty banjo-heavy ballad, and "Your Side Of Town" ladles on the southern girl sass over handclaps and banjos. Nothing really momentous but I'm rooting for them to have more success.
10. Bobby Shmurda - Shmurda She Wrote EP
This is another EP that I wish was an album, just because "Hot N***a" was the biggest look Shmurda was ever going to get and it seems like they might as well go big or go home. Instead, you get this little 15-minute joint, which at least takes advantage of how brevity suits him. "Wipe The Case Away" is the standout of the new songs but Rowdy Rebel steals the spotlight from Bobby on "Living Life" and makes me think he might have more potential in the long run.
Worst Album of the Month: Rick Ross - Hood Billionaire
In March, Rick Ross released Mastermind, which was his most unsuccessful album to date both in terms of sales and radio hits. But since album sales are in the toilet, especially for hip hop, and few big names have released anything this year, he managed to outsell every other 2014 rap album so far besides Iggy Azalea. So I guess he felt confident about tossing out another album less than 9 months later, which will most likely go down as being even less successful than
Mastermind
while still maintaining his A-list status in a dying industry. But good lord, this is just garbage even by the modest standards by which people bend over backwards to act impressed by Rick Ross albums. "Nickel Rock" was the most annoying song I'd ever heard by him, until "Burn" followed it with a hook even more irritating. The song with K. Michelle sounds like a possible hit but that's the only song on here I'd ever hope to hear again. Just release the Meek album already, you boring old bastard.