Late Nights With Dave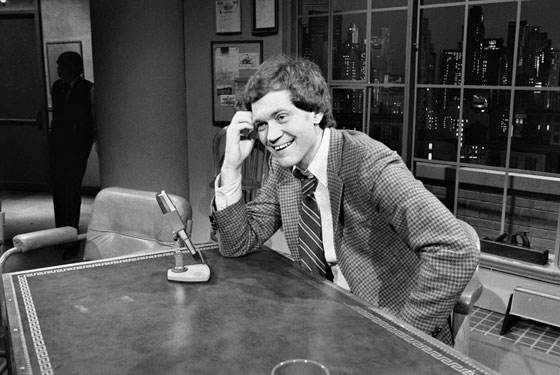 My wife Jennifer's due date is today, but our son Daniel was
born
nine days ago. And one reason I'm kinda glad that the kid showed up a little early is I got to take him home from the hospital and watch the last week of "The Late Show With David Letterman" with him. Sure, he's been sitting in my lap, asleep or looking around the room with no comprehension of the monologue jokes and interviews he's heard. But Daniel has been able to experience the end of the Letterman era the same way I experienced the beginning of it.
I was born in January 1982, weeks before the debut of "Late Night With David Letterman" on NBC. And my parents were early adopters to the cult of Letterman, checking out the weird new guy after Carson, partly because they had a baby, keeping them up after midnight. And my older brother Zac and I may have not been active Letterman watchers for years, but not that many years -- there are famous family stories of Zac sitting at our Crayola table and interviewing me, Letterman-style. There was even a little video, filmed on a borrowed Camcorder, that hasn't been seen in decades, of Zac-as-Dave interviewing me, who was in character as a dog (not a Stupid Pet Trick segment -- I was the guest and I was a dog). This was at the house we moved out of when Zac was 8 and I was 6, so we were at least that young.
So after Daniel came home from the hospital last week, Letterman became part of the routine (since I'm usually on baby duty around midnight while Jennifer gets well-deserved rest). My mom came to stay one night, and so we were able to come full circle, with three generations of my family dozing off to a Letterman monologue together (you can just barely see the couch my mom was sleeping on in the far right there). It's a tradition that has now spanned all 33 years of my life, and it will end when Dave signs off on Wednesday night.
After my parents split up, my brother and I would spend weekends at my dad's house in Baltimore. It became a morning ritual to watch the VHS of Letterman episodes that Dad had taped during the week. You might not think of "Late Night With David Letterman" as being especially accessible to prepubescent children, but there was a lot I enjoyed about the show from a very young age -- throwing food off of a roof, goofy broken glass sound effects every time Dave threw, and of course Stupid Pet Tricks. I didn't have any inkling of how Letterman's dry, ironic sense of humor represented some kind of sea change for the sense of humor of my parent's generation, how different his vision of a late night talk show was from Carson, who I only watched regularly in the final months before his retirement. I will never doubt Carson's importance and talent, and I've seen enough now to understand it, but I will never appreciate him as fully and innately as I love Dave.
Letterman vs. Leno was the first celebrity feud I can remember having any kind of personal emotional stake in. Dave going to CBS, and at least temporarily beating Leno in the ratings, felt to me like as much of an important cultural sea change of the era as, like, Nirvana knocking Michael Jackson off the top of the charts. I watched Letterman sidekick Chris Elliott's oddball cult show "Get A Life," and his even odder cult movie
Cabin Boy
(featuring Letterman's immortal 5-minute contribution to cinema history). The E! channel had "Late Night" reruns from 1993 to '96, and watching those regularly are really what got me acquainted with a lot of classic Dave moments from the '80s, once I was old enough to really appreciate them (granted, I was 14 in 1996, so I was still a fairly precocious late night television enthusiast). Later I started to tape both Dave on CBS and Conan on NBC every night.
Sometimes I wonder what kind of career David Letterman would've had if he hadn't been given that hour on NBC, or had lost it quickly. Doing a live show 5 nights a week for three decades doesn't really leave much time for anything else. And it's possible that he never would've done any job as well as he did hosting late night, but what if he'd become a legendary standup, or created a classic sitcom, or co-starred in movies with Bill Murray instead of just interviewing him? What we know Dave for is his reactive abilities -- the way he spontaneously responded to an interview subject, the jokes he told about current events, the way he played it off when the joke bombed. I wonder if he has any passion projects he never got to indulge, if he'll have any energy to do them now, at 68. Other aging broadcast vets like Larry King and Regis Philbin have 'retired' from their famous shows in recent years, only to continue doing other projects and staying in the public eye. I hope Letterman does that, and we get to see him loosen up in other environments, kinda for the first time ever.
Dave taught me how to watch late night TV, and it won't be the same without him. Jimmy Fallon is a grinning, vapid hack on par with Leno, and James Corden, though he's been a promising host so far, has increasingly followed Fallon's lead into pop culture dress-up games over actual comedy. Conan has always been the closest to my heart after Dave, and at least he's on TBS, and I'm curious how Stephen Colbert will do with "The Late Late Show." He won't fill his shoes, because nobody can, but he can fill his timeslot.