Deep Album Cuts Vol. 43: Demi Lovato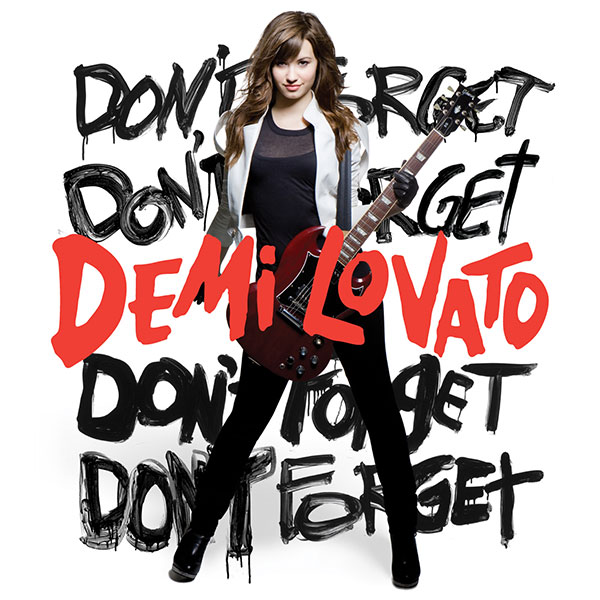 Demi Lovato's new single
"Cool For The Summer"
is currently climbing the charts, and I feel like I've already heard more praise for it than all her previous singles combined. And that's kind of a shame, because ever since I was hooked by
"Don't Forget"
and
"La La Land"
from her first album, I've rooted for her. And she's finally become a pretty consistent Top 40 radio presence in the last few years with a string of really good singles like
"Give Your Heart A Break,"
"Really Don't Care,"
and
"Heart Attack."
Lovato is one of many pop stars who came into the public eye as a star on the Disney Channel, but she never really reached the level of fame of a Miley Cyrus or Hilary Duff. She was introduced to the world in the
Camp Rock
movies, which were kind of like a knockoff High School Musical built around the Jonas Brothers, and her career has kind of run parallel with erstwhile best friend Selena Gomez. For a while, Lovato's life took a dark turn and she seemed more tabloid famous than known for her music, but it really feels like at this point, with 4 gold albums and her 5th album on the way, she's finally starting to get noticed for the right reasons. 4 albums is a little soon to do an overview of anyone's career, but as with
One Direction
, I think it's a good time to look back on the catalog so far of one of teen pop's more consistent acts of the last few years.
Demi Lovato Deep Album Cuts (Spotify playlist):
1. The Middle
2. U Got Nothin' On Me
3. Gonna Get Caught
4. Solo
5. Mistake
6. Without The Love
7. Catch Me
8. Two Worlds Collide
9. Got Dynamite
10. Who Will I Be
11. Our Time Is Here (featuring Meaghan Martin)
12. Brand New Day
13. On The Line (featuring the Jonas Brothers)
14. In Case
15. Trainwreck
16. All Night Long (featuring Missy Elliott and Timbaland
17. Who's That Boy (featuring Dev)
18. Fire Starter
19. Unbroken
20. Believe In Me
21. Stop The World
22. Warrior
23. Everything You're Not
Tracks 10 and 11 from
Camp Rock
(2008)
Tracks 1, 3, 8, 13, 15 and 20 from
Don't Forget
(2008)
Tracks 2, 4, 7, 9, 21 and 23 from
Here We Go Again
(2009)
Track 12 from
Camp Rock 2: The Final Jam
(2010)
Tracks 5, 16, 17 and 19 from
Unbroken
(2011)
Track 6, 14, 18 and 22 from
Demi
(2013)
Lovato's first couple albums came out at the height of the post-"Since U Been Gone" era, when most female pop singers were basically making glossy guitar-driven power pop. And Lovato was known for actually playing guitar and listening to metal bands, and made some of my favorite music out of that whole wave. Half of
Don't Forget
was co-written with the Jonas Brothers, and is better than almost anything they ever did for themselves, and
Here We Go Again
was maybe an even stronger album (aside from one really bad song written by John Mayer). Those albums have often been described as kind of a Radio Disney version of Paramore, but in a weird way I think that's actually backwards -- Demi Lovato has this kind of anxious mall punk edge in her vocal delivery where Hayley Williams sings like a natural born pop star.
Weird side note: I occasionally work with famous people in my teleprompting day job, and I've been in the same room with Demi Lovato a couple times, once meeting her and working with her for an hour or so. In those situations I generally just say hi and do my job, though, so I didn't take the opportunity to, like, tell her that I've listened to all her albums or that I champion her music to other pop critics. She seems nice, though.
Although Lovato has really only become a radio presence with the string of great singles off her last couple albums (the first two albums sold mainly off the strength of Disney Channel ubiquity), the albums themselves are a little spottier and lighter on good deep cuts. About half of
Unbroken
was saddled with an ill-fated attempt at clubby R&B, although there were a couple tracks I liked enough to put on the playlist, including one of the only Missy Elliott/Timbaland collaborations released in the last decade.
Demi
was something of a course correction to combine the guitar-driven rock of her early records with slick dance pop in the style of recent Kelly Clarkson and Katy Perry records, and it worked fairly well, but "Cool For The Summer" seems like a good omen that she's really figuring out the ideal version of that sound for her next album.
Previous playlists in the Deep Album Cuts series:
Vol. 1: Brandy
Vol. 2: Whitney Houston
Vol. 3: Madonna
Vol. 4: My Chemical Romance
Vol. 5: Brad Paisley
Vol. 6: George Jones
Vol. 7: The Doors
Vol. 8: Jay-Z
Vol. 9: Robin Thicke
Vol. 10: R. Kelly
Vol. 11: Fall Out Boy
Vol. 12: TLC
Vol. 13: Pink
Vol. 14: Queen
Vol. 15: Steely Dan
Vol. 16: Trick Daddy
Vol. 17: Paramore
Vol. 18: Elton John
Vol. 19: Missy Elliott
Vol. 20: Mariah Carey
Vol. 21: The Pretenders
Vol. 22: "Weird Al" Yankovic
Vol. 23: Tom Petty and the Heartbreakers
Vol. 24: Foo Fighters
Vol. 25: Counting Crows
Vol. 26: T.I.
Vol. 27: Jackson Browne
Vol. 28: Usher
Vol. 29: Mary J. Blige
Vol. 30: The Black Crowes
Vol. 31: Ne-Yo
Vol. 32: Blink-182
Vol. 33: One Direction
Vol. 34: Kelly Clarkson
Vol. 35: The B-52's
Vol. 36: Ludacris
Vol. 37: They Might Be Giants
Vol. 38: T-Pain
Vol. 39: Snoop Dogg
Vol. 40: Ciara
Vol. 41: Creedence Clearwater Revival
Vol. 42: Dwight Yoakam