Monthly Report: May Albums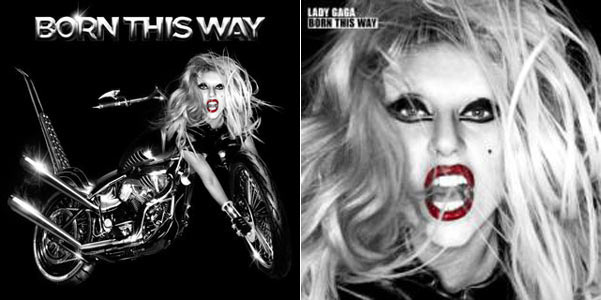 1. Lady Gaga - Born This Way
I, like most people, gradually came around to tolerating and then appreciating Lady Gaga's music during her long ascendancy to pop domination. But what I particularly like about this album is that she's increasingly as committed to an absurd over-the-top aesthetic in her music as in her videos or album covers or stage shows or red carpet outfits, the whole thing's just so loud and high energy. Sometimes it's wearying, on songs like "Government Hooker" that I feel like I should find fun and funny but am mostly annoyed by, but more often than not it works. At the moment I'm really loving "Bloody Mary" and "Highway Unicorn." I also feel like she's been getting if not better then closer to something I really like with this album, with the nods to '80s AOR both in the songwriting and in collaborators like Clarence Clemons and Mutt Lange.
2. Sloan - The Double Cross
Sloan have been having a really great late career renaissance, and while I don't wanna say it's because their '60s/'70s power pop sound is 'timeless,' I think maybe they are aging better than a lot of their '90s contemporaries because they didn't even sound contemporary in the '90s.
Parallel Play
was their shortest album yet, and this one's 3 minutes shorter, and these short records really emphasize the weightless charm of their best songs, "Unkind" in particular is just wonderful. I'm kind of annoyed that the copy of the album I bought on eMusic has these awkward gaps between the tracks that are supposed to run together medley-style, most albums don't do that on my iTunes generally.
3. The Lonely Island - Turtleneck & Chain
Incredibad
held together pretty well as an album and there have been some pretty good SNL digital shorts since then, but I wasn't really clamoring for another Lonely Island album, and it really felt like their songs had been getting more lame and one-note lately, particularly "Threw It On The Ground," "I Just Had Sex," and "The Creep," which really just confirmed for me that these guys can't write joke raps for Nicki Minaj that sound remotely as good as even a mediocre Nicki verse she'd write herself. But "Jack Sparrow" was so great that it kind of got me excited about hearing the album, and it is pretty solid, if not as consistently funny as
Incredibad
.
4. Thurston Moore - Demolished Thoughts
I just wrote a
Splice Today
piece last week about Thurston and Sonic Youth's relationship with the acoustic guitar that was inspired by this album, but I'm not actually sure how I feel about the album itself. At first it felt really drab, but with each listen the textures have revealed themselves more and it's a really pretty record, whether or not the songs ever hook me.
5. Eddie Vedder - Ukulele Songs
I've always been tickled by the idea of the angst-ridden baritone Voice Of His Generation sitting around writing novelty tunes and silly love songs on a ukulele, and this is kind of light and entertaining in exactly that way, no more and no less. I do like that he reprises one of my favorite later Pearl Jam songs, "Can't Keep."