Movie Diary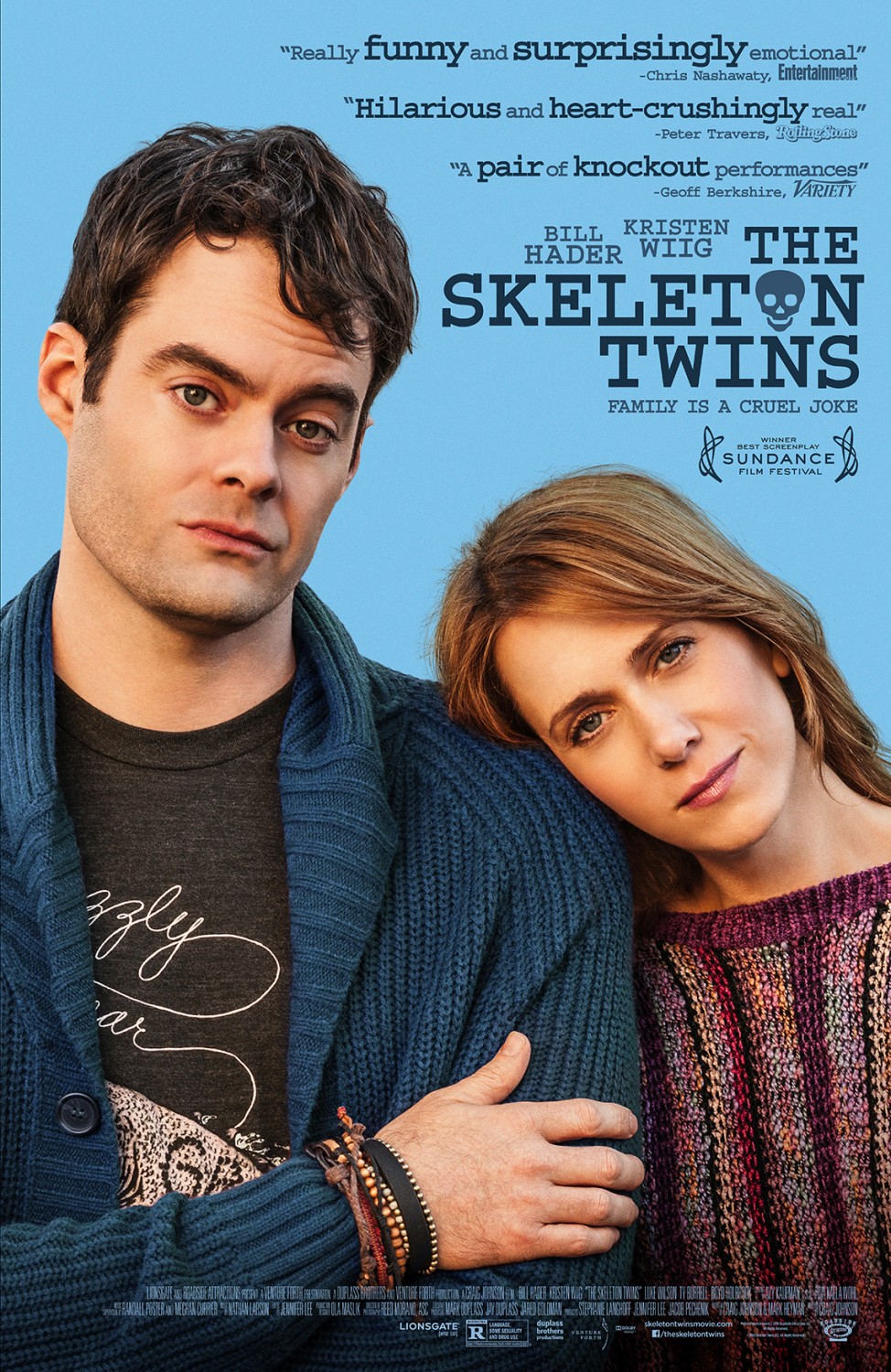 a) The Skeleton Twins
I find it easy to be cynical about comedic actors taking on dramatic projects; even when they're good, the movies often feel more like painstaking career moves than the right actor in the right role. This is one of those rare movies where it just feels natural and seamless, though -- two of the right actors in the right role, miraculously. Bill Hader and Kristen Wiig's most manic comic performances never felt absent of a basic human vulnerability, though, so this movie doesn't ask you to bend over backwards to accept them in a completely new context. They're still really impressive performances, though. I feel like movies tend to depict depression in this humorless way, when it's so much more realistic to see Hader's character use humor as a defense mechanism. It all just felt so much more lived in and unforced than a lot of indie dramas of its kind do.
b) The Hobbit: The Battle Of The Five Armies
I'm a fan of Jackson's
Lord Of The Rings
trilogy and enjoyed the first two
Hobbit
movies more than most, but it's pretty undeniable that they're wringing the source material dry by this point. The endless battle scenes of the third movie were my least favorite part of the other trilogy, so I dunno, I only put this on out of a sense of completism.
c) The Theory Of Everything
It's interesting to see a wave of movies about intellectual heroes whose accomplishments weren't anything that would translate easily to thrilling cinema like Stephen Hawking, David Foster Wallace, and Steve Jobs. But it's also pretty obvious that they wouldn't be considered biopic potential without the suffering and tragedy to romanticize, and ultimately these movies are probably not about their work very much at all, or at least this one isn't. Eddie Redmayne's performance is pretty impressive, Felicity Jones lights up the screen, and there are scenes that really drive home the gravity of Hawking's physical impairment, and how much it robbed him of experiences in parenthood and in life in general, but it ultimately felt like a facile Oscar movie.
d) Dumb And Dumber To
I love the original
Dumb And Dumber
enough that, in spite of everything, I felt a little optimism about this movie, that it would at least recapture some enjoyable shred of the original. But man, this started bad, with the opening scene that explained what they'd been up to for the last 20 years, and got worse from there. It'd probably sound ridiculous to imply that the original wasn't crude and over-the-top, but there's something about the worst gags in this one that made the first movie seem, I don't know, dignified in how carefully it walked that line?
e) Big Hero 6
I liked this but I dunno, maybe I need to see it more than once, it didn't really grab me the way I thought it would based on the word of mouth.
f) Ouija
Ouija boards have persisted through the generations, I think because it appeals to an adolescent tendency towards paranoia, letting your imagination get carried away with an ambiguous, interactive game that's always open to interpretation. That doesn't exactly provide a plot for a movie, but it's certainly a vibe that a horror flick could build on. This doesn't, though. It's just another movie with teen girls being terrorized by a ghost, it shows too much instead of building suspense, as board game adaptations go it's somewhere below
Battleship
.
g) The Equalizer
I'm fine with this trend of respected aging actors doing lowbrow tough guy action movies, the Liam Neeson ones have gotten old but Denzel probably has a few of these in him.
h) Tammy
Let's take a moment and just appreciate, for a moment, the almost unprecedented level of clout Melissa McCarthy has as a comedic actress in Hollywood right now. She's had a string of $100 million grossing movies now, and even
Tammy
, her indulgent vanity project co-written with and directed by her husband, made a cool $80 million. And honestly, this movie didn't seem like it would be good, but it's easily one of her best movies to date. She surrounds herself with funny veteran actresses (Susan Sarandon, Allison Janney, Kathy Bates), the story is fairly grounded and coherent even if it didn't lend itself to an exciting trailer, and the tone of the humor is a little less lowbrow than
Identity Thief
or whatever.
i) Godzilla
Has anyone calculated how much Godzilla was even in this? Felt like homeboy barely made a cameo. And while the instinct to open a monster movie with a lot of exposition about the human characters to give the climax some emotional impact is a good idea on paper, it just falls flat here,
Cloverfield
accomplished something like that much more successfully.
j) Alexander And The Terrible, Horrible, No Good, Very Bad Day
The title character is pushed out of this movie almost as much as Godzilla. I hate that people try to adapt these short, simple kids' books (this one being a favorite of mine when I was younger, being the pessimistic little Alexander I was), and have to pad them out in all these weird ways to make it into a traditional 90-minute movie. I mean sure, if you make Steve Carell the dad, of course he's going to get a lot of screentime, but it feels like the movie is about every member of the family more than Alexander, besides just being a lousy unfunny movie on a more basic level.
k) The Other Woman
This movie feels like some kind of weird public beta test for two very famous women who aren't movie stars and want to ease into the business. Kate Upton's role doesn't ask much of her, but she manages to play a funny dingbat a little more successfully that Nicki Minaj does with her wisecracking assistant role, which she delivers in a more stilted, unnatural voice than almost any accent she's rapped in.
l) The Dead Girl
This movie has a sad cloud hanging over it, in the sense that Brittany Murphy played the titular dead girl, only about 3 years before her own untimely passing. It's an interesting, unique movie, though. It's shot like a gritty crime dramas, but each of the 5 segments, which follows a different female character (including some great actresses like Toni Collette and Rose Byrne). really deals with the emotional fallout of a death in a way that most gritty crime dramas only touch on fleetingly, if at all.